Shun DMS400 Classic 4-Piece Steak-Knife Set Review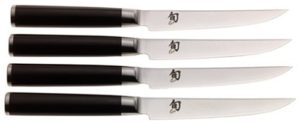 Let's be serious for a moment, an elegant steak dinner wouldn't be elegant without the most luxurious piece of cutlery tool, a quality steak knife- in particular, a Shun DMS400 Classic knife. When you remove a deliciously cooked steak off the heat, you allow the piece to rest, and to ensure your steaks are the very best; you can use a laser sharp steak knife to keep the flavor of the juices where they belong, inside the steak… and soon in your mouth- not pooled in your plate!
The Shun DMS400 Classic steak knife set is unlike any other on the market. These knives are hand-sharpened to a 16 degree edge on each side, making it impossible not to glide through your steak, allowing the knife to minimize the cutting of capillaries in the meet and in full summary, will keep more of the juices inside the steak. The difference with these steak knives will blow you away with their precision and ability to glide through any steak, like warm butter.
The Shun Cutlery Classic set is old with four beautifully crafted steak knives and comes in a gorgeous matching box, perfect for gifting the chef or home cooking enthusiast in your life. If you're looking to purchase these for yourself, they're perfect for an elegant four-person dinner party, and the quality box could easily be used as a storage box! We actually love the box set so much we love to display it out where everyone can see, weird? Maybe. Showing off? Definitely.
Structure of Shun's Classic Steak Knives
This steak knife set is hand crafted in Japan and fashioned with excellence with a tasteful and contemporary traditional design. Many of the highest quality steak knife sets are manufactured and made in Japan, however different companies enjoy showing off their special kind of steel they've manufactured for perfect quality knives.
Made with a VG-MAX core, commonly known as "super steel" and is surrounded by layered Damascus cladding which ultimately provides stain resistance and protection of the core. The Damascus style reduces sticking to any meat and results in less damage to the meat when cutting for faster prep times and quicker bites. The reason for the blade is it's cutting ability- isn't it?
The four-blade set feature whopping 4 ¾" blades on each handle for a disappointment free dinner. Each knife structures a thin, 16 degree angle blade which is the closest to razor sharp as you can get with the quality and of the Shun's name. The blades are completed with a D-shaped ebony Pakkawood handles, which are sure to match any table setting both elegant, modern and stylish. Perfect for you, we know. Best of all, the Shun's satisfaction guarantee is backed by a manufacturer's limited lifetime warranty. Nothing truly beats lifetime warranty for a worry and stress free purchase.
One of our favorite characteristics of these knives are the real contemporary vibe you feel with them. The look of these knives are a look of pure extravagance. The D shaped handles add the edge needed to add comfort in the grip. The sophisticated look truly is the winner with these knives. In our fair share of research, we've decided in terms of looks, this knife sets takes the cake. If you're looking for a 6 piece knife set, take a closer look at Wusthof Classic 6-piece knife set.
What We Love & What We Don't About DMS400 by Shun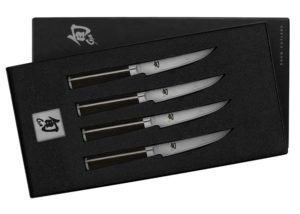 We actually love this set so much that we're slightly offended they would have this available for purchase with only four pieces to work with. At this price point, chefs and home cookers all around expect a little more in terms of quantity. Quality cutlery is hard to come by at a decent price point and this set is no different in that aspect.
On the other hand, the quality presented in this steak knife set is unlike any other. The modern, classic, sleek look and grip to this set is a luxury lovers dream. They are a simple pleasure to use, the grip is firm and comfortable without feeling too casual. Let's just say, if you're using these knives, it's not an ordinary dinner with the TV on in your PJ's! Shun also offers a free sharpening service for as long as you own them, an amazing deal if you ask me! And if you live near a store you may bring them in and they will sharpen two knives while you wait, and for two or more, they will guarantee the rest sharpened by the next day for pick up, now that's luxury!
There's a clear feeling that chefs and home cookers alike have when using them. There's an understanding that the knives sitting idly in your silverware drawer do not even come close in comparison to the Shun Classic Set. This set is so well loved across the nation that they're press coverage speaks for them. They've been featured in Oprah's O Magazine, Clean Eating Magazine, Country Living Magazine, Yahoo Food, Martha Stewart Weddings, Weight Watchers, Dr Oz's The Good Life and many more! There's a reason the editors and food feature writers are obsessed with writing about the Shun's Classic set, it's amazing in so many aspects. The elegance and the quality are perfect to create the atmosphere around a great steak dinner.
Final Thoughts on DMS400 Classic
This Asian inspired steak knife set that's come from the Shun's Classic cutlery line is impressive, simply by the level of handmade craftsmanship. With the clear nod to the hand-forged knives of ancient Japan, this gorgeous classic set is made with exactly the perfect amount of super steel needed to give these knives the extra strength for your needs.  The layered cladding provides stain resistance as it protects the core. Best of all? The elegant style of this set will have you calling all the neighbors over for a fancy steak dinner, it doesn't hurt to show off every once in a while. Unless you're throwing a barbeque with foam plates and plastic cups… Shun DMS400 Classic 4-Piece Steak-Knife Set will fit any special occasion!
CHECK THE LOWEST PRICE HERE