Best Steak Knives Reviews and Comparisons of Top Selling Models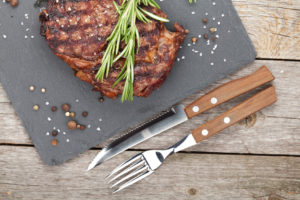 If you want to make a chef or home cooker cringe in the worst possible way, tell them you think steak knives are just ordinary kitchen knives. I can hear their cries already! I'm excited to get you educated in the matter, as well as guide you through picking out the best steak knives perfect for your lifestyle. Yes there are even different KINDS of steak knives as they are not ordinarily the same either. What's the best way to find steak knives? Check out best steak knives reviews. Luckily for you, we've got the break down, so you don't have to get your hands dirty, save that for the kitchen.
Steak knives are typically used on hard plates, which will dull out blade edges relatively quickly. Kitchen knives are used on poly or wooden cutting boards, which are relatively forgiving on blade edges. In English, this means the same steal that makes your favorite kitchen knife won't work the same as a steak knife. It's important to know the different attributes that make up the perfect steak knife. We almost always recommend a stainless steel blade, as it's easier to take care of and typically don't rust, unlike carbon blades, which will firstly add additional salt to the meat because of the salt content of meat in general. Carbon blades also typically need an exceptional amount of extra time for cleaning, sharpening, finishing and oiling of the blades to keep up their quality. Fun fact: they can stain in as little as thirty minutes if not cared for properly! Like many busy home cookers or chefs, no one has time for that.
First, when choosing the best steak knife set for your family or lifestyle, be sure to be fully committed, as you will likely buy the knives in a larger quality set. Chefs who serve steak with mismatching steak knives are not chefs in my opinion in the least. If you're serving steak in an upscale and luxurious environment, be sure to have sleek and modern blades with sexy handles of bone, finished wood, horn or stainless. If you're looking at a more southwestern feel, perhaps matte finished wood handles might be more of your style. Whatever it may be, commit to them and proudly present them when it's time to serve.
The experience of steak eating will only go uphill when using the right knife. Firstly, the knife should feel a bit heavier that it looks, typically, but not too heavy for you still want your guests to feel comfortable while using them. The focus should always be your steak, but the right knife will only enhance the experience. The best steak knife should feel almost like an extension of your hand, an urge of excitement should be running through your body when you hold it. Sometimes we make steak just to be able to use our steak knives, yes, the enthusiasm is real.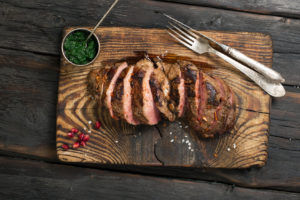 The best benefit of using a great steak knife is the most obvious of all reasons; it should make eating steak or any other meaty product such as chicken, ham, pork, etc., a lot easier and more enjoyable. There may be nothing more embarrassing than having to put in hard work and maybe even some sweat in cutting your meat, only to have it fly off your plate in conclusion of using the wrong utensils. The best steak knife set will save your guests from this embarrassment, and save you from a messy clean up later. You're welcome in advance.
I'll be the first to say there's absolutely no downside in having the best steak knife set and no benefit of having a cheaply made steak knife set. If you're spending more on a steak knife set, I urge you to go all-out. They will typically not need replacing for a good amount of years, depending on how well you take care of them. The food you spend hours preparing deserves the right accents to help it shine during the dinner presentation. Do your kitchen a favor and invest in the right set for you, regret will never cross your mind.
What Should You Look For In The Best Steak Knife Set?
The grind of the blade is the most important aspect of your knife; after all, it's the hero of the product, the job doer, the absolute savior of your meat. Since we've already talked about the importance of purchasing stainless steal blades, let's move forward and discuss the Grind. There are typically four different kinds of grinds, the V grind, the hallow grind, the chisel grind and the serrated edge.
The V grind is exactly what it sounds like, the edge of the blade that are shaped like a V are usually the most common form of blade and easily to keep sharpen as you can sharpen both sides at the same angle. The hollow grind is the same as the V, however, one side has a slight curve to it, which makes it almost impossible to sharpen and conclusively, tend to ruin much faster than other blades. The hallow blade is sexy with a European style, but for most, not worth the up keep. The chisel grind blades stay sharp the longest as one side is completely straight with no angle to sharpen, while the other side is at a sharp angle, making it easy to… you guessed it… sharpen.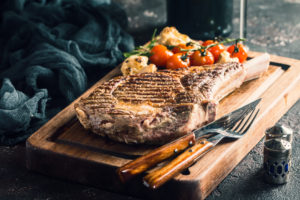 The serrated edge blades are another common form of steak knife as it's not sharp in one long stride, but instead sharpen in the form of a bunch of little V's along the blade. These blades are usually known to stay sharp for much longer and make steak cutting incredibly easy as it does grip meat easier with each stride. With the serrated edge blade, the only real problem we can see is they do not cut as "pretty" as other blades. Logically, the piece of freshly cut steak is going to be in your mouth within a second anyway so why worry about the cut look? Some chefs do take that into account as well; nonetheless, serrated edges work amazingly and to me, are the most fun to use.
Plain blades (not serrated) are known to cut through meat like warm butter. Ideal? Possibly. Does it have any flaws? Of course- let's break it down quick and easily. Plain blades will cut through meat quicker, however, will come into contact with your plate quicker and can (and probably will) make that teeth cringing squeaky noise that only the devil himself could possible enjoy. However, other than that- these blades last an impeccable amount of time and are extremely easy to re-sharpen. At the end of the day, it all comes down to personal preference.
What Steak Knives Are The Best of The Best?
The following steak knife reviews are some of the best we've seen. Although they may be more geared towards the more luxurious end of the steak knife scale. We know if you're eating a nice juicy steak- it's not just any ordinary Wednesday. Or maybe it is, we aren't judging. Check out the below and decide for yourself.
Shun DMS400 Classic 4-Piece Steak-Knife Set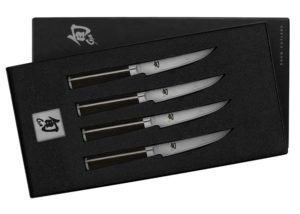 This Asian inspired steak knife set that comes from the Shun's Classic cutlery line is impressive, simply by the level of handmade craftsmanship. With the clear nod to the hand-forged knives of ancient Japan, this gorgeous classic set is made with exactly the perfect amount of super steel needed to give these knives the extra strength for your needs. The Shun DMS400 Classic steak knife set is unlike any other on the market. These knives are hand-sharpened to a 16 degree edge on each side, making it impossible not to glide through your steak, allowing the knife to minimize the cutting of capillaries in the meet and in full summary, will keep more of the juices inside the steak. This is done to keep the flavor of the juices where they belong, inside the steak… and soon in your mouth- not pooled in your plate! The difference with these steak knives will blow you away with their precision and ability to glide through any steak, like warm butter. The layered cladding provides stain resistance as it protects the core. Best of all? The elegant style of this set will have you calling all the neighbors over for a fancy steak dinner, it doesn't hurt to show off every once in a while. Unless you're throwing a barbeque with foam plates and plastic cups…  this set will fit any special occasion!
Click Here to Read the Full Shun DMS400 Classic 4-piece Steak Knife Set Review
Wusthof Classic 6-Piece Steak Knife Set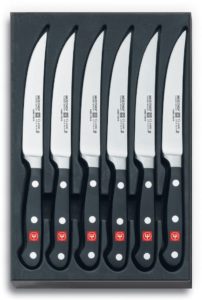 If you're looking for an outstanding endurance blade that will work as hard as you do, the Wusthof Classic 6-piece steak knife set is for you. It's simply hard work molded and crafted into a high performing extraordinarily sharp blade, which is remarkably easy to maintain. Your hands will be thanking you for the smoothness and seamless fit of the handle, plus the triple-riveted handle shells that hold the full Tang in place is safe and feels secure to the touch.
Although rich in history (since 1814), the Wustof company has enhanced their blades with the new Precision Edge Technology (PEtec), which enhances the blades sharpness by a whopping 20% and will last twice as long as any other steak knife sleeping in your silverware drawer, modern and vintage all together? Perhaps exactly what every chef needs. The knife bolster and finger guards are the hidden hero's of this quality knife, however. The bolster boosts heft for the knife for easy and effortless cutting. The thickness provided by the bolster allows for precision, as the blade is easier to maneuver with this added charm. The finger guard is your safe haven! It provides a thicker wall that attaches right under the bolster and helps protect your finger from the sharp blade that is chopping away just a few inches away from your hands.
These knives take the drag of preparing your food into a pleasurable culinary experience.  If you're an avid meat eater, these knives are a must-have set. This blade set is the best steak knife set for the professional chef or home cooking enthusiast in your life, a perfect gift! If gifting isn't on the radar, a gift for you is always the best kind of gift.
Click Here to Read the Wusthof Classic 6 Piece Steak Knife Set Review
Global GTF-4001 – 4 Piece Steak Knife Set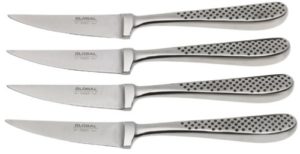 Global knives are manufactured by Yoshikin in Niigata, Japan and were designed in 1985 by Komi Yamada. They provide the quality you need when serving up that elegant meal you've spent ours preparing. What gives these knives their true edge is their blade (again, pun intended). The blade is created from the highest quality of steel alloy produced in Japan. Yoshikan uses it's own stainless steel called CROMOVA 18. The hardness of this steel allows the company to easily create these knives and to keep them lasting quite longer than the average Joe knife. However, this keeps them at the right softness to allow chef's and home cookers alike to sharpen with ease. The science crafted within each knife set is interesting as you can feel comfortable knowing the history and research behind this very established company has produced the best in quality knives. The handles, in our opinion, are the knives most stunning feature. They're molded and shaped to suit your hand and fit perfectly to the curvatures of you fingers. The steel is dimpled (with tiny holes) to prevent slipping of any kind, hooray for safety! This particular characteristic essentially pulls the Global knives out from the crowd and allows them the special spotlight they deserve. Global only uses the absolute latest in manufacturing techniques for a modern and elegant look, using only the best materials that they've manufactured strictly for these knives, now that's lavishness!
If you're looking for a modern and classic steak knife set that will last you years and perhaps could be passed down in generations to come-you've fond it. This set is an absolute must have for professionals in the kitchen- or even pro's in training!
Click Here to Read the Full Global GTF 400 4-Piece Steak Knife Set Review